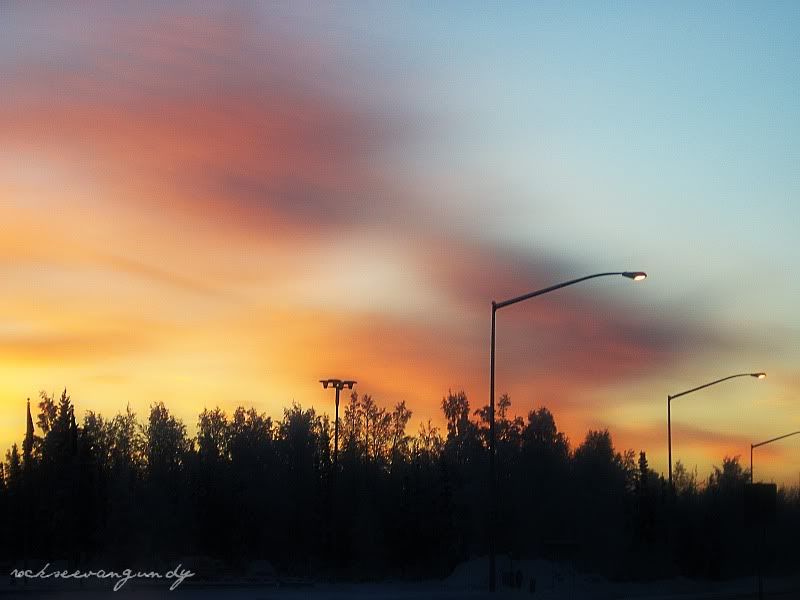 Honestly the only thing I can tell you is that I love a good winter sky. It's amazing how one day it is drab and boring and cold and full of ice fog and foulness.. and the very next day, you see something like this. Isn't it amazing what the nature and a little touch from god can create? To be honest, I love Alaskan summers.. I really truly do. But I am beyond smitten with the winter time and all the amazing things that the sky does. It's like driving in a living painting all day, everyday.


You can literally only see this mountain range good from the top of the overpass on my way home and ONLY if it is a very clear day. Today, it was a little cloudy in the mountain tops.. but the sky was, well killer.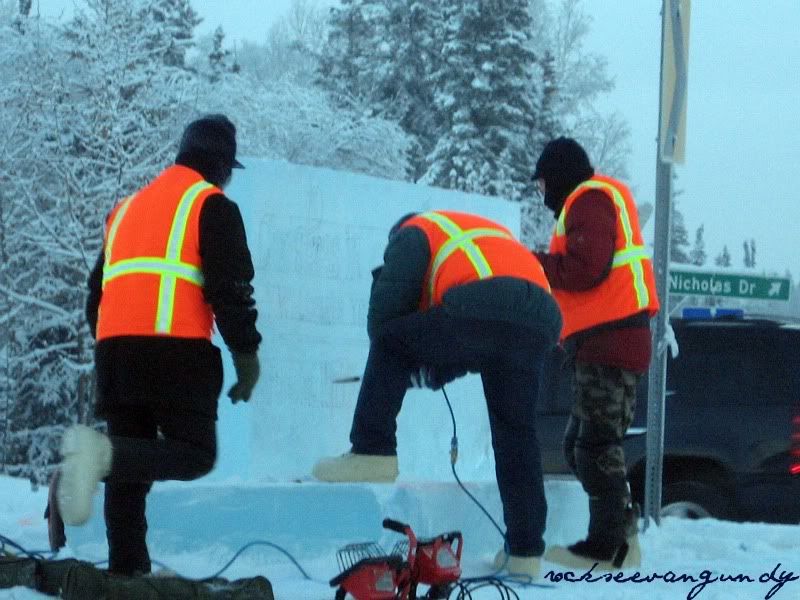 I got home only to find the ice carvers out in town square getting the ice blocks carved out for Christmas. I LOVE this about my town. We have three roundabouts in the center of the city. (which is stupid.. they sometimes slow me down when I am late to work!.. but they are good for Christmas decorations.. ) The city of North Pole has people from the Christmas in Ice festival come and carve out ice sculptures for each center of the roundabouts, along with some little lighted Christmas trees..





They work so hard at it.. and the results are awesome. I love the fact that seeing people with chainsaws carving ice in your town is completely normal here. It's super cool to watch how it all comes together.. My favorite is the Santa and his dog team that goes completely around one of the roundabouts. Totally neat!




I have a Mrs. Neck story for you.. involving a leotard.. but I will save it for tommorrow.. I don't want to muck up this post with anything having to do with Mrs. Neck wearing any kind of spandex material.

I hope you all have an amazing Christmas ... I'm not much for Christmas cards and what not.. I tried one year and got them out sometime around Easter. But I would hope that those people who read this and are special to me, know that they are.. and they don't need a card to tell them how much I love them and hope them all the best for the upcoming season.
They would just already know that.

But if you don't.. I do.. wish you all the luck and love and happiness that you can get.. I hope the holiday is warm for you.. and please.. stay out of trouble. :)